Alice August was the killer of stripper Trixie Velvet in Beautiful No More (Case #8 of Grimsborough).
Profile
Alice is a 25-year-old Caucasian woman. She has short blonde hair and blue eyes. She dons a white off-shoulder dress and a necklace. It is known that Alice is in contact with cats and wears Eau d'Homme.
| | |
| --- | --- |
| Height | 5'5" |
| Age | 25 |
| Weight | 120 lbs |
| Eyes | blue |
| Blood | A+ |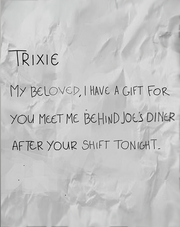 Alice, a barmaid in Tony Marconi's Blue Flamingo Night Club, soon became a suspect in the murder investigation of a 26-year-old stripper named Trixie Velvet, who worked in the Blue Flamingo as well.
Throughout the investigation, Jones would speak to Alice affectionately and it seemed as if he was slowly falling in love with her. However, he was shocked when Alice was ultimately found guilty of the murder.
Alice was hoping Jones and the player would arrest Colin Stokes given his obsession with Trixie but Jones made it clear that she committed the crime based on evidence. Alice admitted to Jones and the player that she loved Trixie and wrote her letters anonymously, which Trixie would read several times and believed the writer was a man. They met each other behind Joe's Diner after Alice sent Trixie a note asking her to meet her there. Trixie was surprised as well as shocked to learn that her admirer was not a man and as a result, she laughed, which enraged Alice to the fullest. Not being able to control her rage, Alice grabbed a hammer and relentlessly hit Trixie over the head with it until she finally died.
Alice was sentenced to 20 years in jail (with parole in 10 years) for the murder of Trixie Velvet.
Trivia
Alice is one of the LGBT (Lesbian, Gay, Bisexual, Transgender) characters in the game.
Case appearances
Gallery
Ad blocker interference detected!
Wikia is a free-to-use site that makes money from advertising. We have a modified experience for viewers using ad blockers

Wikia is not accessible if you've made further modifications. Remove the custom ad blocker rule(s) and the page will load as expected.