Angus O'Brian was the victim in Spineless (Case #14 of Pacific Bay).
Profile
Angus was a local Irish priest and a bare-knuckle fighting champion residing in Inner City, and the brother of Colin O'Brian. He had ginger hair and green eyes. He donned a priest's uniform which consisted of dark blue robes, a black shirt with white collar and a crucifix pin on the right side of the robes. He also held a bible in his left hand.
Murder details
Angus's body was found floating strung up by balloons in the middle of Saint Patrick's parade, strangely bent in an inverted "U" shape. After performing the autopsy in the morgue, Roxie deduced the killer choked Angus with a jumping rope, as suggested by the fibers in his neck (which confirmed the killer used a jumping rope). However, that was not the cause of his death. Roxie later determined Angus was killed by being forced to ingest helium, which caused his lungs to explode due to the high pressure of this gas entering into his body. The last thing Roxie discovered was that Angus's spine was missing, which explained the strange shape of the body when it was found at the parade.
Later, when the team went to investigate the parade for a second time, they found a helium can, which matched one of Roxie's findings--confirming the object to be the murder weapon. The can had a green stain, and the team did not hesitate to take a sample and send it to Yann for analysis. After the forensic analysis was finished, Yann determined the green substance came from a four-leaf clover brooch, which the killer was using while carrying the helium can to perform the murder. This determined the killer sported a four-leaf clover brooch.
Killer and motives
The killer turned out to be bare-knuckled fighter Shelly Dulard.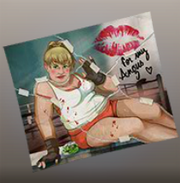 Angus won a fight against Shelly (in spite of him being a priest), but Shelly had no match loss tolerance based on the findings of Frank and the player. Shelly moved to Inner City in hopes of finding true love and a career change. Angus and Shelly fell in love and Shelly gave Angus a picture of her, but in spite of Shelly's pleas not to show it to anyone, Angus disobeyed Shelly so he could rig the fight tournament held in the fight club and as a result, Angus won the fight tournament but at the cost of Shelly sustaining moments of shattered dreams and a broken heart. Shelly had no honour, so after she lost to Angus, she consumed pints of beers, grabbed a jump rope, strangled him on-sight, and filled his body with helium to finish the job.
Judge Dante recognized the victim's immorality (in which he witnessed Angus's wanton cheating and dishonesty years before this case), but made it clear that being cheated on did not warrant violence. Judge Dante admitted to the court he was a victim of cyberbullying, but admitted his morality by stating what his limits as a human being are. Judge Dante also did not like how Shelly threw garbage at Amy during Coleen Truman's murder investigation but alas, he issued a 20-year jail sentence for Shelly of grand homicide, to which Shelly reacted (with rage) that she never had any luck in her life. Frank felt down when he realized that he was not able to celebrate Saint Patrick's Day properly for the first time in his life due to the player's superhuman endeavor to put countless killers behind bars no matter the cost.
Trivia
As revealed in the finale of Inner City—Angus, Ling, and Radovan's respective organs were all stolen by none other than the crooked surgeon Mark McKenzie, who was eventually arrested for his involvement in the organ-stealing scheme as he obeyed his contractor's orders to remove the organs and give them to him in clandestine terms.
Case appearances
Gallery