John Bradley, better known as Bulldog, was the killer of junkie Dan Broke in The Dockyard Killer (Case #4 of Grimsborough).
Profile
Bulldog is a 29-year-old drug dealer who operated in the Oakville Alley, and he is seen wearing a blue denim jacket with a skull badge on it. He has a nose bull ring, ear stretchers and a red haired beard as well. Underneath his jacket, he has a gray jumper. On his neck, he has a tattoo of his trademark "B" signature with a collar around it. It is known that Bulldog is left-handed.
| | |
| --- | --- |
| Height | 6'4" |
| Age | 29 |
| Weight | 260 lbs |
| Eyes | blue |
| Blood | B+ |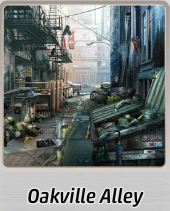 David Jones
and the player found a drug bag with a code on it and asked
Bart Williams
 what it meant. Bart told them that it was Bulldog's drug bag. Speaking with Bulldog, they investigated his "workplace" in Oakville Alley and they found blood on a poster. They tested the blood and found out it was Dan's. Then, the team found a pocket-knife with a steel "B" on it. Speaking with Bart again, he tells them that it is Bulldog's signature. They arrested Bulldog and he told them that he killed Dan because Dan bought drugs off of him and owed him $2,000, which caused Bulldog to get impatient when Dan did not pay him the money. Fed up with waiting, Bulldog stabbed Dan in the stomach and left him to die next to a crate at the dockyard.
Bulldog was sentenced to a minimum 20-year jail term for grand manslaughter.
Trivia
Being 6 feet, 4 inches tall, Bulldog is one of the two tallest killers in the game, the other being Tom Norris.
His real name is John Bradley per the game's gameplay trailer.
Case appearances
Gallery