Carlos Antonio was the victim in Death on Wheels (Case #2 of Pacific Bay).
Profile
Carlos was a street racer who sported many tattoos around his body, often wore a white tank-top, wore two gold ear piercings, and a gold chain on his neck. Carlos was bald and also sported a stubble with gaps in between his mouth area. Carlos also had brown eyes.
Murder details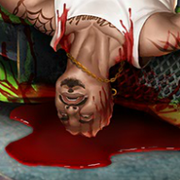 Carlos was found by the team tied up to the murdering race car with the top-most part of his skull pryed open due to violent contact with the concrete, meaning Carlos was tortured to death with the car. Roxie deduced the cause of death was the aforementioned, although she said it in her own words before Frank. Roxie also determined that Carlos did not go down without a fight, meaning he fought his killer before yielding, which meant that the killer had bruises. The car was confirmed to be car-jacked by Yann when the team found a steering wheel (which they pieced together) alongside a bent butterfly knife also found by the team.
Later, Chief Marquez told Frank that the murder weapon would be towed away from the crime scene if he did not act within 10 minutes, as the player felt it was necessary to revisit the crime scene over and over until the investigation was over. There, Frank and the player took the headrest of the car alongside the towel used to strap the victim with chains and collecting various residues and substances. Through these evidences, Yann was able to determine that the killer wore a diamond earring and also had a tattoo on their body.
Killer and motives
The killer turned out to be tattoo designer Shawn Bailey.
Shawn believed that a stripper named Memphis Banach was his to take because he fell in love with her the first day he met her, but Memphis fell in love with Carlos, and in spite of Carlos's wife-beating antics, Carlos fell in love with the stripper as well. Shawn convinced Memphis to turn Carlos to the police, file a complaint, but Shawn's suggestion did not work because Memphis and Carlos were in love with each other and would never turn one another to the police no matter what. Shawn tried to reason with Carlos by texting him, but that antic also did not work. Shawn was fed up with Carlos dating Memphis, so Shawn hijacked a street racing car parked near where he lived, loitered throughout town, headed to Derek Stone's party, and convinced Carlos to run in the night's race. Moments after Shawn escorted Carlos out of Derek's flat, he punched Carlos unconscious, strapped him to the car hood with chains, and drove the car at full speed to scrape Carlos's head like a strawberry jam canister until he crashed into the crime scene.
Judge Dante (with Frank Knight's cooperation) sentenced Shawn to 20 years in jail, 5 years for street racing and 15 years for killing Carlos. Shawn replied with anger that he saved Memphis from Carlos and declared himself innocent, but Dante countered that Shawn brought more terror to Memphis's life, and then made his decision final.
Case appearances
Gallery