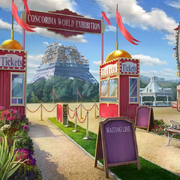 Century Mile is the third district appearing in Mysteries of the Past and features Cases #13-#18.
A district boasting architectural and technological advancements and innovations, Century Mile focuses on the World Exhibition, where various inventors and scientists are presenting their works, which are being sabotaged by a mysterious saboteur. It also focuses on Judge Takakura's retirement and Justin Lawson's desire to be the new city judge.
The following is a list of all the cases situated in this district.
Pages in category "Century Mile"