For the full list of cases in the game, see Cases.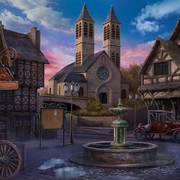 Grim Chapel is the eighth district appearing in Mysteries of the Past and features Cases #43-#48.
Known as a "ghastly district" of asylums and the supernatural, the district focuses on investigating the Rochesters' dealings, including the death of their enemies in "freak accidents" there and the dark background of the mental asylum, Gryphon Sanctuary. Furthermore, it deals with a murder consultant known as "the Devil", as well as Justin Lawson's candidacy for deputy mayor after the murder of Sandra Hwang and allegations of her corruption.
The following is a list of all the cases situated in this district.
Pages in category "Grim Chapel"
Ad blocker interference detected!
Wikia is a free-to-use site that makes money from advertising. We have a modified experience for viewers using ad blockers

Wikia is not accessible if you've made further modifications. Remove the custom ad blocker rule(s) and the page will load as expected.