Chad Whickman (1984-2012) was the victim in Burned to the Bone (Case #9 of Grimsborough).
Profile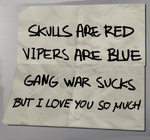 Chad was a member of the Vipers' gang and was romantically linked with Troy Cassidy's sister Rose Cassidy. The two loved each other very much and Chad had even written a poem for her once.
As for his physical appearance, Chad had brown hair and blue eyes, and sported a tattoo of the Vipers' logo just above his chest. Besides that, it is known that Chad sported a black jacket above a light green v-neck t-shirt during the time of his death.
Murder details
Chad was found dead in a disused parking lot with his body burned to a crisp. During the autopsy, Nathan discovered that the killer used to smoke. Blue fabric was found on the body which belonged to the killer. Dandruff was found on the body which did not match the victim's DNA, so it was obvious that the killer had a dandruff problem. Later, a broken camera was found and after putting it back to a single piece, Alex found out that the killer was 6'0".
Killer and motives
The killer turned out to be mini-market manager Joe Stern.
Joe incinerated Chad because the Vipers always used to come to his mini-market and destroyed the items there. As a result, Joe became furious when Chad asked for a job in his mini-market (since Chad was a member of the Vipers) and in anger, splashed gasoline on Chad and ignited him in flames with his cigarette.
Trivia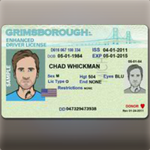 Per Chad's ID (pictured), he was born on May 1st, 1984.
Case appearances
Gallery
Ad blocker interference detected!
Wikia is a free-to-use site that makes money from advertising. We have a modified experience for viewers using ad blockers

Wikia is not accessible if you've made further modifications. Remove the custom ad blocker rule(s) and the page will load as expected.