Criminal Case
Comments

5
576pages on
this wiki


Criminal Case - Main Theme

Criminal Case (often referred to as "CC") is a detective-themed hidden object game released on November 15, 2012 for Facebook, and on August 28, 2014 for iOS. Developed and published by European social gaming company Pretty Simple, Criminal Case has over ten million average monthly users. 
On 9 December 2013, Criminal Case was crowned the Facebook Game of the Year 2013, beating Candy Crush Saga,[1] the most popular game on Facebook with over forty-six million average monthly users.
Setting
The game's time setting is in 2012, 2013 and 2014.
Grimsborough
The player first investigates in the city of Grimsborough. Grimsborough contains six districts, which are the Industrial Area, the Financial Center, the Historical Center, the University, the Maple Heights and a "hidden" district called Airport (which can be unlocked after finishing the first 51 cases). Each district holds 10 cases excluding the Industrial Area which contains 11 cases and the Airport which contains 5.
Pacific Bay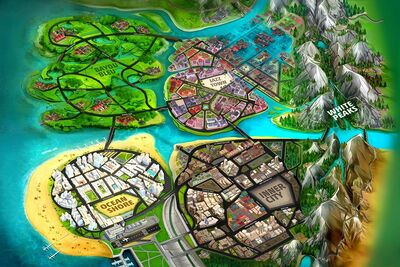 After completing the first 56 cases of the game, the player travels to the city of Pacific Bay after accepting a position in the Pacific Bay Police Department. Pacific Bay is divided into ten districts: Ocean Shore, Bayou Bleu, Inner City, Jazz Town, White Peaks, Ivywood Hills, Rhine Canyon, Innovation Valley, Paradise City and The Wastes. Ocean Shore and Bayou Bleu have 5 cases each, while Inner City and Jazz Town are slated for 7 cases each. Pacific Bay is slated for a minimum of 54 cases.
Gameplay
In Criminal Case, the player investigates murders and finds clues to apprehend the killer in order to progress through the cases.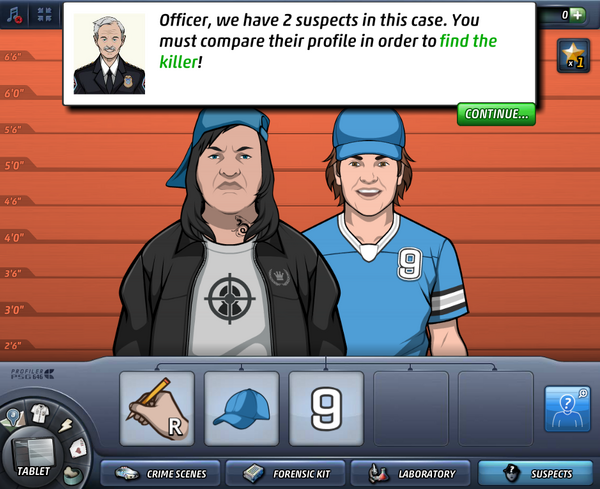 The player acts as a detective to solve murders partnered alongside David Jones in the Grimsborough PD and then alongside Amy Young and Frank Knight after being promoted to the Pacific Bay PD later on in the game.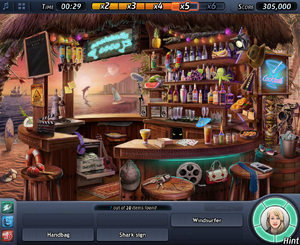 The player must locate relevant clues at crime scenes by clicking items in the scene. Greater scores are awarded for finishing the scene quickly. The player earns stars by investigating crime scenes, which in turn are used as a type of currency when it's time to perform necessary tasks such as examining evidence and questioning witnesses.
Criminal Case also offers a new trick or two, like puzzle-style hidden object scenes that must be unscrambled. There are also a few simple click-and-drag activities to break up the player's routine, like shuffling through suspects' garbage or clothes.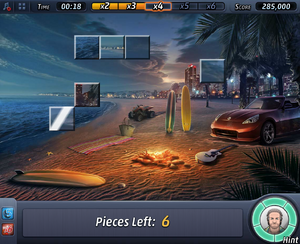 The player is allotted a small amount of energy that doesn't receive a guaranteed fill-up when advancing in levels. Necessary autopsies and analyses will take a few hours, and interrogations require stars to complete. To earn stars, the player will need to play crime scenes over and over, with each "go" requiring 20 energy. Predictably, energy fills up slowly.
Another way to progress faster in the storyline besides playing or waiting is to add more Criminal Case players (as teammates) from around the world, which in turn helps the player to get more amount of energies, allowing them to progress much faster.
The social aspect of the game is important.
Characters
Characters play a supporting role and they may or may not have serious impact in the game. They are classified into the following six categories:
Popularity

Already by the start of 2013, Criminal Case had attracted many users towards it.
As of mid-2013, Criminal Case attracted more than ten million monthly users and became highly competitive with Candy Crush Saga, the most popular game on Facebook.
On December 9, 2013, Criminal Case won the Facebook Game of the Year 2013 award.[2] The game has a 40-percent share of Facebook users.[3]
Some reasons cited for the game's success include its graphic crime scenes and meaningful narratives.[4]
On July 15, 2014, the game's official Facebook App Page reached 50 million "likes".
Gallery
References
See also
External links