Home
Talk

0
576pages on
this wiki
Welcome to Criminal Case Wiki,
The wiki dedicated to Pretty Simple's detective-themed hidden object game, Criminal Case.

576 articles combined by 111,118 edits and 9,895 images since creation on 30th March 2013.
This wiki contains spoilers, strong language and graphic images or contents.


About Recent Activity Categories Forum Fan Fiction Front Policy Administration
Criminal Case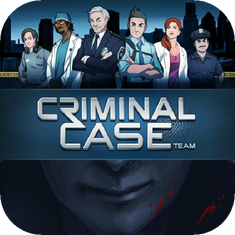 Criminal Case (often referred to as "CC") is a detective-themed hidden object game released on November 15, 2012 for Facebook, and on August 28, 2014 for iOS. Developed and published by Pretty Simple, a European social gaming company, Criminal Case has over ten million average monthly users. On 9 December 2013, Criminal Case was crowned the Facebook Game of the Year 2013.
In Criminal Case, the player begins as a rookie cop in the Grimsborough Police Department, partnered alongside Inspector David Jones. Together, the two investigate murders in the city of Grimsborough. Grimsborough features six districts, which are the Industrial Area, the Financial Center, the Historical Center, the University, the Maple Heights and the Airport. Grimsborough features a total of 56 cases.
After completing the first 56 cases of the game, the player travels to the city of Pacific Bay soon after getting promoted to the Pacific Bay Police Department. There, Frank Knight and Amy Young are assigned to be the player's partners in the investigations. Pacific Bay features ten different districts: Ocean Shore, Bayou Bleu, Inner City, Jazz Town, White Peaks, Ivywood Hills, Rhine Canyon, Innovation Valley, Paradise City and The Wastes. Ocean Shore and Bayou Bleu have 5 cases each, while Inner City and Jazz Town are slated for 7 cases each. Pacific Bay is slated for a minimum of 54 cases.
Featured Article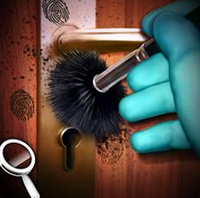 Evidence, better known as clues, are suspicious objects that help the player progress further in the murder investigations in Criminal Case.
The player will acquire many evidence, or 'clues', throughout the cases. These clues, in most circumstances, are found in crime scenes, after completing lab analyses, or when a suspect is generous enough to hand one to the player. Certain clues may require analysis and/or examination—usually giving new leads to the player, such as a new suspect or an update on the killer's profile.
As such, evidence is one of the vital elements needed to solve a case as they are eventually utilized to incriminate the killer behind the murder.
Featured Video
Criminal Case Wiki Help
Not sure where to start?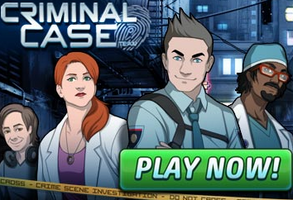 Quote of the Moment
"

So the victim's head exploded under the shock, and I beat my record for skull reconstruction by three minutes!

"

―Roxie Sparks, after performing a successful autopsy.
Featured Poll
Criminal Case is finally out on the Apple App Store! Now, on a scale of 1 to 5, what would you rate the iOS version at?
Join Us on Facebook

We've also founded a Facebook group to keep you informed about the latest news and to play Criminal Case all together! Join now!
News
Create blog post
Blogs
[FROM THE DEVELOPERS] The wait is over!! We've just released Criminal Case on iTunes App Stores WORLDWIDE! You'll now be able to investigate Crime Scenes on your iPads and iPhones everywhere you go!

http://2sm.pl/1plhTIu

Read more >

in this case.]]


A local weather reporter was found dead at one of the wreckage scenes of Hurricane Yves. The killers are using Hurricane Yves as an excuse to keep the murders coming in Jazz Town!!!


Cloudy With a Chance of Murder, the nineteenth case of Pacific Bay, is out no…


Read more >

A legendary jazz musician is found torn to pieces on top of a tram in the very first case of Jazz Town. Chief Marquez has a suspicion that Hurricane Yves may have driven many citizens in this musical district to new lows, but is it the pain of Hurricane Yves that drove the …

Read more >
See more >