Dave Simmons was a suspect in the murder investigation of mortgage broker Ned Dillard in Corpse in a Garden (Case #2 of Grimsborough).
Profile
Dave Simmons is a 39-year-old real estate agent with brown eyes and hair. He dons a beige suit over a white shirt and a blue tie. Furthermore, he has a missing tooth and sports a bandage on his right cheek.
| | |
| --- | --- |
| Height | 5'6" |
| Age | 39 |
| Weight | 176 lbs |
| Eyes | brown |
| Blood | A- |
Dave was a witness to the murder of Ned Dillard. In addition, he owned the house Ned lived in and was there to sell the house.
Dave was ultimately found innocent of the murder, but was seen around the primary crime scene during the Additional Investigation of the case. Jones and the player thought he was hiding something, and found some documents which showed that Tony Marconi wanted to buy some properties whose mortgages were held by Ned. This made the team think Dave was involved in Marconi's businesses, but he refused to talk.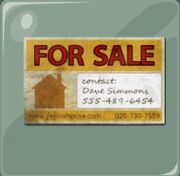 Although Dave did not appear physically during the events of this case, he was mentioned by Alden Greene--who stated that he was going to call Dave in order to discuss the selling of an abandoned house located right across the street from the Greene's home since he wanted to buy it for his grandson (as a gift) when he'd be released from prison (because Alden still believed that his grandson was innocent).
Trivia
In Dave's mugshot artwork, his tie changes into black and his bandage is missing.
Dave's suit and tie are darker in color on the mobile version of Criminal Case (see image here).
According to the For Sale sign that was found by the abandoned house in Family Blood, Dave's phone number is 555-489-6454.
Case appearances
Gallery
Ad blocker interference detected!
Wikia is a free-to-use site that makes money from advertising. We have a modified experience for viewers using ad blockers

Wikia is not accessible if you've made further modifications. Remove the custom ad blocker rule(s) and the page will load as expected.