Irina Tsvetaeva (Rus: Ирина Цвета́ева; referred to in the case as Duchess Anastasia) was a suspect in the murder investigation of civil notary Mikhail Karamazov in Only Truth Remains (Case #14 of World Edition).
Profile
Irina is a 39-year-old woman pretending to be the descendant of Grand Duchess Anastasia Nikolaevna of Russia. She wears a Russian princess dress, a silver flower necklace, and hat lined with fox fur. It is known that her parents (who were bakers) died when she was 3 years old. It is known that Irina plays piano, has contact with a Borzoi and eats caviar.
| | |
| --- | --- |
| Height | 5'4" |
| Age | 39 |
| Weight | 140 lbs |
| Eyes | blue |
| Blood | A+ |
Carmen and the player interviewed the supposed duchess after she was identified on a newspaper article of her and the victim. She felt disgusted that they decided to use the picture of her near the victim. Anastasia mentioned how she was petitioning Mikhail to motorized papers proving she is Grand Duchess Anastasia's great-granddaughter. When informed of Mikhail's death, she said she would never do such a thing, especially in her dress.
Anastasia was interrogated again regarding a message the victim wrote to her saying she could not say "no" now. She said the victim accused her of being a fraud, and he would not tell anyone if she agreed to marry him. She was furious at his remark of her being a fraud, pointing out several reasons why she would not be. When Carmen pointed out disposing of a blackmailer was a strong motive, Anastasia simply said she would never sully her hands with Mikhail's blood.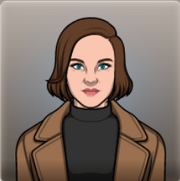 Anastasia was found to be innocent after the team incarcerated Dmitri Lermontov for Mikhail's murder. However, Marina felt it would be helpful to interrogate her again since she was the reason Dmitri killed Mikhail. Anastasia requested their help to prove once and for all she was related to Grand Duchess Anastasia, so Marina and the player agreed. After sending a sample of the Duchess' saliva to Lars, he managed to reveal she was not related to the Russian royal family. He did find it matched one Irina Tsvetaeva, who was orphaned at the age of 3. The duchess could not believe the results, as Marina expected. Marina felt Irina made this Duchess Anastasia story to cope with her loss, but wanted her to seek help in order to get her life back on track. Though saddened, Irina thanked the two of them for their help.
Trivia
Case Appearances
Gallery