Not to be confused with Daily Gifts or Daily Bonus.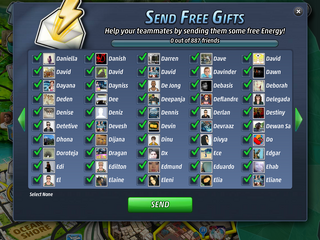 Free Gifts exist as a gameplay feature in Criminal Case.
Description
Edit
Through this feature, the player can send 2 energy points per day to select teammates and receive 1 energy point in return (unless the teammate chooses to skip this step).
Likewise, the player can receive 2 energy points as a gift every day from their teammates, and can choose to send them 1 energy point in return by clicking the "Accept & Send" button in the Message Center.
The player can also earn trophies by sending certain amounts of Free Gifts to their teammates.
Due to the Message Center limitations:
The player cannot hold more than 100 "+2 energy" messages at once.
The player cannot hold more than 76 "+1 energy" messages at once.
Should the quota be exceeded, the ones received earlier will be dismissed in favor of the newly received ones.
Ad blocker interference detected!
Wikia is a free-to-use site that makes money from advertising. We have a modified experience for viewers using ad blockers

Wikia is not accessible if you've made further modifications. Remove the custom ad blocker rule(s) and the page will load as expected.