Jacob Dawks was the victim in To Die or Not to Die (Case #22 of Grimsborough).
Profile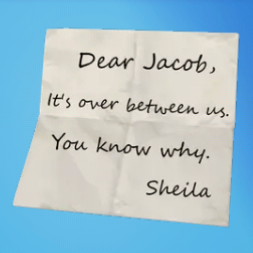 Jacob was an actor who had brown eyes and low-cut dirty blond hair. At the time of his death, he wore a scarlet fur cape, a platinum gray shirt, pants of the same color, and brown boots for the play "Hamlet".
Despite being the lead actor, it was known that Jacob was despised by many people, and had dated Sheila MacCarthy prior to his murder.
Murder details
Jacob was found dead on the stage of the Grimsborough Theater, crushed by a sandbag. Nathan Pandit explained to the player that the victim had died instantly when he was crushed by the sandbag. Furthermore, the bag was ready to crack which meant that the bag had been lested with far more weight that it could have handled. Nathan also stated that the bag could not have had been there for more than a couple of hours. In addition, he found some make-up powder on the bag which assured that the killer wore make-up since there were no traces of it on the victim.
Killer and motives
The killer turned out to be stage director Phineas Fine.
According to Phineas, Jacob was ruining Phineas' new play called Hamlet since he was a bad actor. Phineas had also tried to fire Jacob a lot of times but the role was secured by a binding contract which prevented Jacob from getting terminated at will. He said that Jacob had a bad tone and that he used to misbehave with everyone. Phineas then told David Jones and the player that Jacob had to be replaced, or the theater company would be bankrupt before the end of the month.
Phineas was sentenced to 30 years in prison with no chance for parole.
Case appearances
Gallery