Jeremy Pratt was a suspect in the murder investigation of Fort Lafayette's Army Lieutenant Nora Lewis in The Root of All Evil (Case #8 of Pacific Bay).
Profile
Jeremy is a 33-year-old survivalist expert sporting long brown hair that extends to his lower part of his neck and thick hairy stubble around his jaw. Jeremy has dust particles on the left side of his green eyes and sustains a cut across the bridge of his nose. He also wears a cloak of leaves over his green shirt. It is known that Jeremy knows gardening and uses lemongrass.
| | |
| --- | --- |
| Height | 5'8" |
| Age | 33 |
| Weight | 180 lbs |
| Eyes | green |
| Blood | A+ |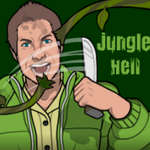 According to Frank, Jeremy was once a reality TV star known for his show Jungle Hell, where he would go alone and survive in the most hostile of environments; however, he got lost in the swamps one day and was not seen again until over a year later, that is, when Frank and the player found him during their murder investigation.
The duo was able to find Jeremy hiding as a plant right where the victim Lt. Lewis was slain. He immediately asked them to evacuate and "leave the plants alone". When questioned if he'd seen Lt. Lewis around the crime scene, Jeremy said that all he told her was to stay away from the swamp forest since the plants there could eat any human being alive; one would need to accept and know them to earn the swamp's trust—that is how he was able to survive after he was declared lost, and felt that he had an obligation to defend nature at all costs.
Jeremy was interrogated a second time when the team pieced a weapon back together for Hannah's analysis in which she concluded a symbol was that of Jeremy Pratt. Jeremy had the symbol for his crew to contact him in case he got lost, which meant Jeremy opted to stay in the forest voluntarily. He was upset when the team interrogated him for a second time but Frank found one of his weapons in the forest and wanted to know as to why Jeremy opted to stay in the woods. Jeremy felt that such hostile environments were his home—a reason as to why he avoided rescue missions day after day, even admitting that he was a gardener as well, but said that he would never kill just for the love of nature.
Jeremy was found innocent after Ray Westman was declared guilty of manslaughter.
Trivia
Jeremy's character background is inspired by Bear Grylls, a reality TV star widely known for his survival television series Man vs. Wild.
Case appearances
Gallery