Johnny Crossman was one of the suspects during the murder investigation of Daily Dawn editor-in-chief Vito Pioni in Killing Time (Case #16 of Pacific Bay).
Profile
Johnny is a 46-year-old former member of the disbanded anarchist organization known as the Inner Chaos. He has black hair, a shaggy black beard and a mustache, also a pair of blue eyes and wears a camouflage hat which is covered with various badges. He wears three anarchist badges, three peace badges, a cross, an anti-nuclear badge, a "NO WAR" badge, and two star badges on his hat. Besides that, he dons a brown jacket above a green t-shirt imprinted with the anarchism symbol on it. There is also a dirt stain on the jacket and his shirt. It is known that Johnny eats lasagna and drinks espresso.
| | |
| --- | --- |
| Height | 6'2" |
| Age | 46 |
| Weight | 190 lbs |
| Eyes | blue |
| Blood | B+ |
Johnny was an influential member of Inner Chaos.
Johnny found himself in trouble when Roxie matched the protester holding a banner against the PBPD database as being himself in spite of the difficulty Roxie had with the task. Amy wanted to know as to why Johnny held a grudge against the Daily Dawn of Pacific Bay but Johnny defended his claim that all media are evil and are liable for the destruction of society not to mention his freedom of speech to protest against newspaper firms like the Daily Dawn. It was suggested in this conversation that Johnny never liked anyone affiliated with the government or the media, although he was willing to solve things peacefully.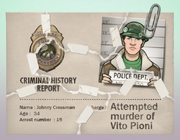 Johnny was in trouble once again when the team found an arrest record of Johnny's attempted murder of Vito at Inner Chaos's HQ in which Johnny admitted he tried to execute Vito harboring claims the Daily Dawn were full of lies and hatred, but served 10 years in jail as attempting a murder of a civilian was a criminal felony in Pacific Bay.
Although his hatred towards the Daily Dawn was strong, the roller coaster ride that ensued in the courtroom proved Johnny innocent of manslaughter charges but hours after the roller coaster ride, Hannah reasoned with Johnny to shut Inner Chaos down--a feat which Johnny unconditionally agreed to as he felt that there was no reason to keep them running, signaling an event Johnny chose to move on with his life.
Case appearances
Gallery