Juan Rodrigo Vasquez (1982–2014) was the victim in Hearts of Ice (Case #26 of Pacific Bay).
Profile
Juan Rodrigo was a popular ice skater who often performed in the Love Village, located in White Peaks, until his demise. He was also the brother of Roberto Vasquez, a suspect in the investigation. Juan had medium brown hair and brown eyes, donned a pink star on his left eye, and wore a blue and purple suit.
Murder details
Juan Rodrigo was found with his face sliced with a sharp blade, lying dead on top of an ice statue during Amy and the player's visit to the ice rink of White Peaks' Love Village. The player did not hesitate to send Juan Rodrigo's body to Roxie for autopsy.
Roxie was heart broken when she had to autopsy Juan Rodrigo's corpse given that many females, including but not limited to Amy, liked and adored the late ice skater. All Roxie knew was that Juan Rodrigo's face was sliced in half by a sharp blade not to mention his face splattered with tiny bits of saliva Roxie isolated from the corpse. Roxie managed to isolate residue of breath spray from the saliva sample she collected, suggesting that the killer used breath spray to keep their breath fresh.
Later on, when the team visited the candy shop in the Love Village limits, Amy and the player found an ice skate inside a romantic basket. The shoe's blade was covered in blood which registered the ice skate as the murder weapon. Furthermore, the player isolated yellow substance out of the murder weapon and shipped the sample to Yann for physical analysis. Yann determined that the killer consumed champagne right before offing Juan Rodrigo.
Killer and motives
The killer turned out to be former Girly Gossips Magazine columnist Tiffany Neng.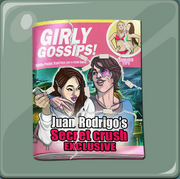 Tiffany fell in love with Juan Rodrigo at one point in her life, but Juan Rodrigo broke her trust by allowing Girly Gossips Magazine to publish intimate photos of Juan Rodrigo and herself, costing Tiffany her job at Girly Gossips Magazine. Amy told Tiffany that a gossip columnist creates articles about other people's secrets albeit she didn't like the idea of Tiffany wanting to keep her personal life secret as Amy felt it would not be fair to others. Tiffany felt that Juan Rodrigo outed a personal matter that was meant to be preserved behind closed doors, which drove her to blood and gore. Amy and the player had enough of Tiffany, so the player took her to trial.
Tiffany told Judge Dante about the humiliation she experienced which led her to murder Juan Rodrigo, but Judge Dante saw Tiffany's heartbreak as an excuse to end someone's life in violence and blood. Tiffany believed murder was the best lesson for heartbreakers like Juan Rodrigo, but besides that Tiffany failed herself by showing her true feelings to Juan Rodrigo, who turned out to be a heartbreaker. Judge Dante saw Tiffany's testimony as an excuse, as he made it clear that Tiffany failed the law on top of her life, which earned her a 20-year jail sentence.
Trivia
It seems that Juan Rodrigo's character was inspired by Jimmy MacElroy, a fictional character portrayed by Jon Heder in the 2007 American comedy film Blades of Glory.
Case appearances
Gallery