Missy Benedict was one of the suspects during the murder investigation of troubled teen Cal Stark in Road to Nowhere (Case #39 of Pacific Bay).
Profile
Missy is a 19-year-old teenager with green eyes and red hair braided to the length of her chest. She wears a pink sweater with hearts over a green v-neck shirt. She also wears a gold necklace and a pair of aviator sunglasses. It is known that Missy drives a pickup truck and eats barbecue sauce.
| | |
| --- | --- |
| Height | 5'7" |
| Age | 19 |
| Weight | 210 lbs |
| Eyes | green |
| Blood | A+ |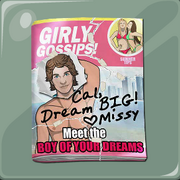 In the middle of Cal Stark's murder investigation, the PBPD team of Frank Knight and the player found a collage at the Rhine Canyon lookout point bearing a handwritten message by Missy to Cal. During the resulting interrogation, Missy claimed that she and the victim were friends since grade school and that Cal always dreamed of living in Ivywood Hills one day.
Frank and the player later discovered a compact turntable during their second trip to the Rhine Canyon lookout point. Tech expert Hannah Choi then analyzed the piece of evidence, only to discover that it had been used by Cal to communicate with aliens. The turntable also contained a conversation between Cal and Missy, who--per the recorded conversation--did not like the former's obsession with aliens. This finding prompted the team to call her into the interrogation once again. Missy stated that she wanted Cal to take her where he had seen the UFOs as she did not want to be left behind under any circumstances.
Missy was exonerated after she was found innocent at the climax of the case.
Case appearances
Gallery
Ad blocker interference detected!
Wikia is a free-to-use site that makes money from advertising. We have a modified experience for viewers using ad blockers

Wikia is not accessible if you've made further modifications. Remove the custom ad blocker rule(s) and the page will load as expected.