Patricia P. Harris was a suspect in the murder investigation of heir Andrew Ashworth in Troubled Waters (Case #43 of Grimsborough).
Profile
Patricia is a 65-year-old, blue-eyed crime novelist with short blonde hair who dresses somewhat casually, sporting a red blouse, blue polka-dot scarf, and a pearl necklace buried in the scarf. Patricia sustained a bee sting on her neck and sports red lipstick. It is known that Patricia drinks mead and sails boat.
| | |
| --- | --- |
| Height | 5'8" |
| Age | 65 |
| Weight | 170 lbs |
| Eyes | blue |
| Blood | O+ |
After inquiring about the victim before Martha Price, Isabella Fairchild, and Donald Hopkins, Jones and the player decided to investigate the "Kitchen Counter" crime scene and found two items: a book manuscript and a torn letter. When the book manuscript was examined, it was exposed as a novel written by Patricia, and thus she was called into the investigation at her book collection to discuss about Andrew's death. The team told Patricia that a character named "Andrew Sootworth" was conceived at Archibald's blessing. Andrew refused to talk with Patricia about the book, as Patricia believed that novels takes inspiration from real life. Patricia then told the team she took some boat sailing lessons as "Andrew Sootworth" drove a boat in the novel, but also mentioned that the hero died during a fishing trip.
Patricia was called in a second time after the team examined a testimony and the examination pointed out directly to her. Patricia admitted to the team that she saw Andrew while she was having mead at the Marina. Patricia told the team that Andrew was always with someone but she could not spot the exact person as her wanton mead drinking prevented her from knowing who the companion was. This prompted the team to suspect Patricia a bit more and to revisit the Maple Heights Marina for missing clues.
After Isabella was indicted, Jezabela approached the police about a paddle with her company's logo left in the Maple Heights Marina. The team did not hesitate to talk to Patricia about the paddle, so the team then checked out the Marina and found Jezabela's white paddle, used forensic powder to find fingerprints, and then sent the paddle to Alex for a verification. The fingerprints belonged to Patricia, made her confess the reason for property violation, and issued her with a fine.
Trivia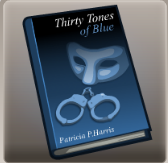 In the game, Patricia has a bee sting on her neck, but for some reason, on her mugshot photo, she sustained the bee sting on her right cheek. Perhaps it was a mistake made by the developers of the game.
Patricia resembles Jessica Fletcher from the American television mystery series Murder, She Wrote.
Patricia is writing a book about passion and murder called "Thirty Tones of Blue", which is a parody of the 2011 erotic romance novel Fifty Shades of Grey.
Case appearances
Gallery