Paula Mahler was the victim in Into the Woods (Case #27 of Pacific Bay).
Profile
Paula was a tourist writer in White Peaks. She had blue eyes and shoulder-length brown hair, and donned a pink vest accompanied by a blue scarf over it. Besides that, she wore a pair of blue denim jeans, held a book titled "Pretty Planet", and carried a blue sleeping bag at her back. 
Murder details
Paula was found in the timber mill tied to an arbor saw, partially sliced in half. Frank and the player registered the timber mill saw as the murder weapon given that Paula's blood stained the saw blades. The player did not hesitate to ship Paula's corpse to Roxie for autopsy.
After tedious hours of autopsy, a lot of things fascinated Roxie. The cutting stopped just above Paula's heart, severing the victim's carotid artery; Roxie suggested that the killer had a change of heart but they were too late to stop the process. Roxie could not help but notice how precise the rope constriction was as the knots found on the corpse were generally utilized to prevent people from seeking escape after being tied up. The knots suggested that the killer had expert knot making skills.
Killer and motives
The killer turned out to be Logan's Pass tourism director Ruthie Samson.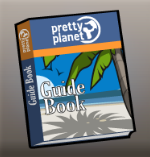 Ruthie told the authorities that Paula and herself were buddies, but when Frank countered that she matched the description of Paula's killer, she admitted to the murder. Ruthie was disappointed in Paula's lackluster coverage of Logan's Pass in the "Pretty Planet" tour guidebook and insisted on Paula's unconditional help to make Logan's Pass the next Aspen. Paula opted to remove Logan's Pass from her tour guidebook, which went against Ruthie's orders all the way through.
Ruthie felt that Paula's insubordination was more than she could take, so she had to resort to bloodlust to punish Paula for such. Ruthie suckered her into the timber mill by pretending to be Judd Tucker, the lumberjack who had saved Paula's life not-so-long ago. Ruthie cornered Paula albeit the victim climbed into the saw table to get away from her. Paula lost traction, allowing Ruthie to tie her into submission, igniting the arbor saw, and slicing her like butter. Frank heard enough so the player shipped Ruthie to court.
Ruthie told Judge Dante that Paula should have worked with Ruthie instead of against her during the tour guide creation as a justification for the murder, but Judge Dante made it clear that there were non-violent ways to deal with Paula's wanton insubordination, and made clear that homicide was not a valid decision to deal with insubordination. As a result, Judge Dante issued a 25-year jail sentence (without parole) to Ruthie.
Trivia
Case appearances
Gallery