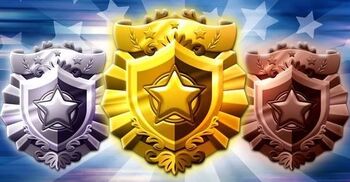 Ranks are a progression feature integrated into Criminal Case. The player will rank up each time they reach a certain level.
Usage
Every time the player ranks up, they get promoted to a new and higher rank (although it does not affect the storyline of the game in any way). There are also certain advantages of ranking up:
Once the player ranks up, they can share a bag of Potato Chips for their teammates or other Criminal Case players to collect.

If the claimer chooses to send a Lucky Card in return, the player will receive a random Lucky Card and may get a chance to collect a Royal Flush if lucky enough.

Throughout the story, certain characters may call the player by their current rank.
Rank Ups
There are currently 19 "Rank Ups" and they occur when the player reaches the following levels:
Level 1 – Officer
Level 5 – Deputy
Level 12 – Detective
Level 20 – Corporal
Level 32 – Sergeant
Level 45 – Lieutenant
Level 60 – Captain
Level 75 – Major
Level 100 – Inspector
Level 125 – Lead Inspector
Level 150 – Commander
Level 175 – Deputy Chief
Level 200 – Commissioner
Level 250 – Sheriff
Level 300 – Ranger
Level 350 – Marshal
Level 400 – Senior Trooper
Level 500 – General
Level 600 – Secret Agent
Badges
Ad blocker interference detected!
Wikia is a free-to-use site that makes money from advertising. We have a modified experience for viewers using ad blockers

Wikia is not accessible if you've made further modifications. Remove the custom ad blocker rule(s) and the page will load as expected.