Sunil Dhudwar (Hin: सुनील धुड़वार) was the victim in Plagued by Death (Case #21 of World Edition).
Profile
Sunil was a science student at the Jayamahal University in Bangalore. He had black hair, brown eyes, and was the illegitimate child of Gourav Gajendragadkar. At the time of his death, he wore a royal blue sweatshirt of his university's symbol.
Murder details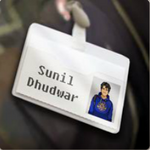 Sunil was found at the Shiva temple decomposing and covered in insects; as well as a puncture wound in his hand where he was injected. His identity was confirmed by the name tag found along with his body. Despite being busy with the recent disease epidemic, Angela was able to perform an autopsy on him. She confirmed Sunil died due to being injected with something, but had trouble finding out what it was due to him being exposed to the plague as well. She did manage to find traces of a spicy curry on the victim's clothes, and since it was not in his stomach it meant the killer ate spicy food.
Shortly after, Angela and Lars informed the player and Jack of what was used to kill Sunil. They found he was killed with an injection of the virus that caused the plague. With that, they confirmed the murder weapon was a man-made virus, and that the killer injected Sunil on purpose so others would catch the infection, making Sunil patient zero of the epidemic.
Killer and motives
The killer, and the person behind the plague, turned out to be a sociology professor named Ayush Patil.
Ayush denied involvement at first but soon admitted. Ayush was worried about the overpopulation in the world. Sunil told him about the virus. Taking this and the recent disasters as a sign, he got access to the virus in the university laboratory and unleashed it on Bangalore. Ayush said that he did not bother in finding a cure because his mission was complete.
In court, Ayush felt no remorse about the loss of hundreds of lives due to his epidemic. Judge Adaku issued him a lifetime jail sentence.
Case appearances
Gallery