Tobias Sharp was a suspect in the murder investigation of young woman Daisy Thompson in The Last Supper (Case #17 of Grimsborough).
Profile
Tobias is a 47-year old food critic with short black hair and wears a pair of trapezoidal glasses. He wears a chocolate brown vest underneath a black suit and white scarf. It is known that Tobias cooks and uses detergent.
| | |
| --- | --- |
| Height | 6'4" |
| Age | 47 |
| Weight | 167 lbs |
| Eyes | black |
| Blood | B+ |
Moments after Jones and the player recovered a torn article in the Chez Valentine restaurant's kitchen, they discovered that the article was written by Tobias about Chez Valentine. In it, Tobias insulted the restaurant and claimed that it was one of the worst restaurants in the city and that it was an unhealthy place. After reading the article, the team went straight to Tobias in order to ask him about his food critics.
In his first encounter, Tobias admitted to the team that he did not enjoy eating at Chez Valentine. He said that the restaurant failed on two things, namely food quality and hygiene. Tobias also stated that the restaurant's service was very bad, in which he explained the previous day he ate at Chez Valentine, he ordered a seafood risotto, but was given a spaghetti bolognaise instead.
It was later discovered that Tobias and Chez Valentine's owner Valentine Montgomery used to attend cooking school together. When asked about this, Tobias told the team that he had more talent than Valentine in cooking, but she had the money, and just because of that, Valentine ended up with her own restaurant (Chez Valentine) and he had to work as a food critic. For this reason, Tobias disliked Valentine and wrote the inflammatory critic about her restaurant.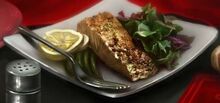 At the climax of the investigation, it was revealed that Tobias's insults had made Valentine's job more difficult, and when she could not take it anymore she decided to poison Tobias in an attempt to save her career--Valentine had actually intended to poison Tobias when he came for dinner one night at Chez Valentine; however, the waiter mistakenly got the (poisoned) plate to Daisy's table, as a result of which the victim was found lifeless in her kitchen the next day. Valentine was incarcerated and taken to trial.
In the Additional Investigation of the case, Tobias tried to get Chez Valentine shut down by stating that they had falsely sold him corked wine. The police did not hesitate to analyze the wine and eventually found out that it was not corked. Thus, Tobias was forced to pay the price of the wine, a whole bottle of which he drank.
Trivia
Case appearances
Gallery