Trixie Velvet (real name Patricia Mills; 1986-2012) was the victim in Beautiful No More (Case #8 of Grimsborough).                                                                
Profile
Trixie was a 26-year-old stripper who worked at Tony Marconi's nightclub, the Blue Flamingo. She had long blonde hair and green eyes, and at the time of her death, wore a leopard skin designed spaghetti top, a black skirt, pantyhose, and red high heels.
Murder details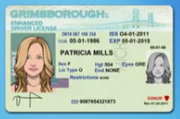 Trixie was found violently murdered behind Joe's Diner. Nathan discovered in his autopsy report that she suffered several deadly blows with a blunt object to the head, which killed her instantly. Cat hair was found on her shirt which showcased her killer loved cats, and came into very close contact with her, right before they killed her. A witness reported that she saw someone running away shortly after the event. She could not recognize the person, but hinted that the person was very pale (Caucasian) and weighed about 120 lbs.
Killer and motives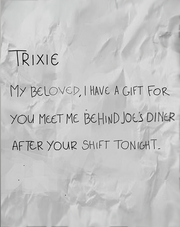 The killer turned out to be Alice August, a barmaid at the Blue Flamingo.
Alice was in love with Trixie and wrote a anonymous love letter to meet her in the alley of Joe's Diner. However, when they met each other, Trixie laughed at Alice because she thought that she was a man who wrote her the letter. Angered, Alice grabbed a hammer and relentlessly beat the victim to death.
Alice was sentenced to 20 years in jail (with parole in 10 years) for the murder of Trixie Velvet.
Trivia
Per her ID card, Trixie's birthday falls on May 1.
Case appearances
Gallery