Tyler Snakes (1977-2015) was a suspect in the murder investigation of artist Fabrizio Gallardo in The Ship of Dreams (Case #37 of Pacific Bay). He was then killed in Dead Carpet (Case #38 of Pacific Bay).
Profile
Tyler was a 38-year-old movie producer with green eyes and brown hair. He donned a black suit accompanied by a white shirt, not to mention a tie clip attached to his brown tie. In addition, he sported the emblem of an infamous cult on the right side of his suit jacket and a badge depicting Gigantic on the left. It is known that Tyler had a cold, knew Morse code and ate caviar.
| | |
| --- | --- |
| Height | 6'0" |
| Age | 38 |
| Weight | 170 lbs |
| Eyes | green |
| Blood | A- |
Tyler was forced to be flagged as a suspect of Fabrizio Gallardo's murder after showing too much protectiveness of his fiancée, Lizzie Dion, harboring beliefs that no one – not even the police – should be allowed to talk to his fianceé without his permission.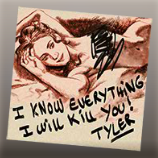 Moments later, a nude picture of Lizzie was found inside Fabrizio's suitcase. In it, Tyler wrote a threatening message to the artist, asking him to back away from his fiancée. Approaching Tyler for a second time, Frank and the player questioned him about Lizzie's infidelity, which only bothered the producer.
Tyler was ultimately found innocent of Fabrizio's murder, but lost his fianceé after vital evidence proved her guilty of grand homicide.
Murder details
Following the aforementioned events, Tyler was found dead on the red carpet of Ivywood Film Awards (with his hands on his neck) – an annual American motion picture award ceremony he was supposed to organize this time. With the ceremony scheduled to start soon, the police team of Amy and the player did not waste time in shipping Tyler's corpse for autopsy.
Hours of tedious autopsy later, coroner Roxie deduced that Tyler was killed exactly like a character in the movie A Puff of Death. This left Amy clueless, prompting Roxie to clarify that Tyler's killer mixed monomethyl para-amino-sulfate (a highly toxic chemical) with the tobacco in his cigarette and made sure he smoked it, as confirmed by the findings in Tyler's lungs. This left no place for doubts: the killer watched A Puff of Death.
During a second visit to the TV room of the Awards Theater, Russell and the player found a cigarette case inside a broadcasting equipment box. Yann analyzed the cigarette case and managed to confirm that the cigarettes contained the same poison that killed Tyler – thus flagging the poisoned cigarettes as the murder weapon. The cigarette case also contained small hairs, blonde hairs to be precise, so the killer was incriminated to have blonde hair.
Killer and motives
The killer turned out to be femme fatale Velma Bannister.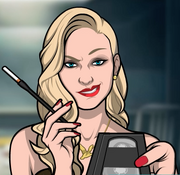 During the moment of her arrest, Velma offered a smoke to the player as a condition to have her rights read while she waited for her husband's lawyers to arrive. In a smart move, Russell then asked the femme fatale to refrain from smoking – especially with poisoned cigarettes, like the ones she had given to Tyler. Velma then proceeded to state that the police had nothing against her – but Russell continued his manipulative demeanor, pointing out that everyone admired Velma's persistence, unlike Tyler, who had the guts to reject her and bruise her ego immensely. This striking insult by the profiler pushed Velma to the limit, causing her to finally admit that she was indeed responsible for Tyler's death – though her actual motive was to gain access to the TV room of the Awards Theater.
Velma believed she could "save" Ivywood from the Utopians' brainwashing plan – which was to brainwash millions of viewers watching the live broadcast of the Ivywood Awards, by simply replacing the original tape with that of a certain brainwashing film – even though she knew this would contradict what her cult desired: she wanted to use her own recording (which would brainwash viewers into obeying and worshiping her) instead of the intended one the Utopians wanted (which would brainwash viewers into obeying the cult). However, Tyler was in charge of broadcasting the Awards ceremony and Velma needed access to the TV room by any means necessary in order to replace the Utopians' tape with hers, leaving her with no choice but to take him out of her way. As the statement came to an end, Russell and the player shipped the femme fatale to trial.
In court Velma cited the fact that she had to use her charm all her life to seduce people to get what she wanted, and the older she became, the more difficult it got, as she believed that there was always going to be someone younger and more beautiful than herself, with Tyler making her realize that her powers were slowly fading with age. However, Velma refused to be uglier than someone else, so she ultimately decided to take the Utopians' brainwashing plan to her own hands by poisoning Tyler to death, replacing the Utopian-standard brainwashing tape with a brainwashing tape of her own so that people would have to obey her and also worship her as the most beautiful woman in Ivywood – and to love her forever. Fame was what Velma yearned for, although she knew that the brainwashing effect could be nullified by a cure and that her fame wouldn't last forever. Hearing enough, Judge Dante finally sentenced the femme fatale to 18 years of hard time for the premeditated murder of Tyler Snakes, not to mention forcing the Judge and the court members to miss out on the Awards ceremony.
Trivia
Tyler may be an allusion to Caledon Hockley from the 1997 film Titanic, which revolves around a fictionalized account of the sinking of the RMS Titanic.

This is possible because, interestingly enough, the Gigantic liner featured in this case is itself a parody of the RMS Titanic.

Tyler is one of the characters who animate (or move) during at least one cutscene in the game.
Tyler is one of the characters who make an appearance in the second-to-last case of a district as a suspect, only to be murdered in the very district's finale.
Case appearances
Gallery