The unnamed security guard is a minor character in Criminal Case, appearing during the events of Dead Carpet (Case #38 of Pacific Bay).
Appearance
The security guard is a short, bald-headed man with brown eyes. Given his profession, he dons a black suit over the combination of a white shirt and black tie, as he completes his look with a phone earpiece on his right ear.
Events of Criminal Case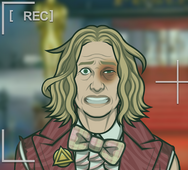 The Pacific Bay Police managed to retrieve a footage from the CCTV terminal of the Ivywood Film Awards Theater's television room. In it, the security guard could be seen having a heated argument with the zealous Jupiter Crane at the Awards Theater entrance, warning him to leave immediately (due to his strange sense of clothing); however, Jupiter refused, leaving the guard with no choice but to punch him in the face to do the job.
Due to this event taking place just moments before the murder of movie producer Tyler Snakes on the Awards red carpet, the police had to flag Jupiter as a suspect.
Case appearances
Ad blocker interference detected!
Wikia is a free-to-use site that makes money from advertising. We have a modified experience for viewers using ad blockers

Wikia is not accessible if you've made further modifications. Remove the custom ad blocker rule(s) and the page will load as expected.