Valentine Montgomery was the killer of young woman Daisy Thompson in The Last Supper (Case #17 of Grimsborough).
Profile
Valentine is a 45-year-old chef and owner of Chez Valentine with black hair which is mostly covered by a chef hat that she wears. She has blue eyes and wears a white chef coat. It is known that Valentine cooks, uses detergent and wears nail hardener.
| | |
| --- | --- |
| Height | 5'6" |
| Age | 45 |
| Weight | 120 lbs |
| Eyes | blue |
| Blood | B+ |
During the investigation of the case, it was discovered that Valentine and food critic Tobias Sharp used to attend cooking school together. When asked about this, Tobias told Jones and the player that he had more talent than Valentine in cooking, but she had the money, and just because of that, Valentine ended up with her own restaurant and he ended up as a food critic. For this reason, Tobias strongly disliked Valentine and wrote an inflammatory critic about her restaurant.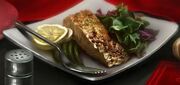 At the end of the investigation, it was revealed Valentine was the killer. Valentine initially wanted to poison Tobias Sharp because she was sick of him continuously critcizing her restaurant, but the waiter accidentally put the poisoned dish for the victim, which lead the victim to be poisoned to death.
Judge Hall sentenced her to 10 years without parole.
Trivia
Valentine's eyes are blue, but it changes into black in her "arrest" image. This was probably a developer oversight.
Case appearances
Gallery