Valentine Montgomery was the killer of young woman Daisy Thompson in The Last Supper (Case #17 of Grimsborough).
Profile
Valentine is a 45-year-old chef and owner of Chez Valentine with black hair which is mostly covered by a chef hat that she wears. She has blue eyes and wears a white chef coat. It is known that Valentine cooks, uses detergent and wears nail hardener.
| | |
| --- | --- |
| Height | 5'6" |
| Age | 45 |
| Weight | 120 lbs |
| Eyes | blue |
| Blood | B+ |
During the investigation of the case, it was discovered that Valentine and food critic Tobias Sharp used to attend cooking school together. When asked about this, Tobias told Jones and the player that he had more talent than Valentine in cooking, but she had the money, and just because of that, Valentine ended up with her own restaurant and he ended up as a food critic. For this reason, Tobias strongly disliked Valentine and wrote an inflammatory critic about her restaurant.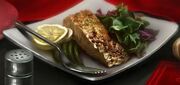 At the climax of the investigation, it was revealed that Tobias's insults had made Valentine's job more difficult, and when she could not take it anymore she decided to poison Tobias in an attempt to save her career—Valentine had actually intended to poison Tobias when he came for dinner one night at Chez Valentine; however, the waiter mistakenly got the (poisoned) plate to Daisy's table, as a result of which the victim was found lifeless in her kitchen the next day. Valentine was incarcerated and taken to trial.
Although the murder was an accident, Judge Hall decided thus a murder is a murder, and a 10-year jail sentence (with no parole) was mandatory for Valentine.
Trivia
Valentine's eyes are blue, but it changes into black in her "arrest" image. This was probably a developer oversight.
Case appearances
Gallery
Ad blocker interference detected!
Wikia is a free-to-use site that makes money from advertising. We have a modified experience for viewers using ad blockers

Wikia is not accessible if you've made further modifications. Remove the custom ad blocker rule(s) and the page will load as expected.