Victoria Taylor was a suspect in the murder investigation of her nephew, waiter Daniel Taylor, in The Final Journey (Case #23 of Grimsborough).
Profile
Victoria is an 80-year-old woman with gray hair tied up in a bun. She is seen wearing a plum dress with a green scarf with a clover motif tied around her neck. It is known that Victoria likes gardening and wears Alligators.
| | |
| --- | --- |
| Height | 5'5" |
| Age | 80 |
| Weight | 123 lbs |
| Eyes | blue |
| Blood | O+ |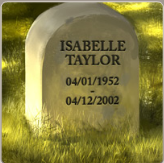 Victoria Taylor was the victim, Daniel Taylor's aunt. She was the one who reported about the murder of her nephew, who was found dead in her attic. When asked about Daniel, Victoria said that her nephew had been living with her ever since his mother died ten years ago. After Jones asked her if Daniel was employed, Victoria replied that he was working in a tea parlor (owned by Gertrude Piccadilly, another suspect in Daniel's murder investigation). She also said that Daniel wanted to "escape" and see the world, but he could not, since his job as a waiter in the tea parlor took all his time.
Case appearances
Gallery
Ad blocker interference detected!
Wikia is a free-to-use site that makes money from advertising. We have a modified experience for viewers using ad blockers

Wikia is not accessible if you've made further modifications. Remove the custom ad blocker rule(s) and the page will load as expected.