Willem Nieuwoudt
Biographical information
Full name
Willem Nieuwoudt
Gender
Male
Status
Alive
Birth
1968
Nationality
Mazundan
Residence
Mazunda (formerly)
Profession(s)
Bodyguard
Game information
Appears in
Criminal Case
First appeared
Case #39: Kicking the Bucket (s3)
Willem Nieuwoudt was a suspect in the murder investigation of SOMBRA assassin Kayla Pieterse in Kicking the Bucket (Case #39 of World Edition).
Profile
Willem is Prince Abioye's 48-year-old bodyguard. He is bald and is bruised on his right eye. He dons sunglasses, a black overcoat over a gray shirt, and an earpiece on his right ear. It is known that Willem eats melktert, speaks Afrikaans, and goes yachting.
| | |
| --- | --- |
| Height | 6'3" |
| Age | 48 |
| Weight | 233 lbs |
| Eyes | blue |
| Blood | O- |
Willem became a suspect after the player and Jack found his sweat on a gun in the village. Jack informed him of the attempt on the Prince's life and that his would-be assassin was dead. He was shocked to hear of an assassination attempt on the Prince, unfortunately he turned his back for a minute only for the Prince to vanish. Jack was shocked that he could lose track of the person he was protecting, Willem also said that he lost the device he was tracking him with, but he had believed that the Prince went to the yacht club and left to search for him there.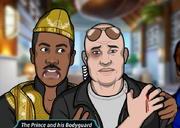 Midway through the investigation, Willem was shot in his left shoulder while protecting Prince Abioye. He was taken to the hospital where Jack and the player talked to him again in hopes of finding out why SOMBRA was after the Prince. Unfortunately, Willem could not provide any information since he worked on a need-to-know basis, and anything more would distract him from protecting Prince Abioye. When Jack suggested that he would go as far as killing off a potential threat, Willem said that he would, if needed. However, he said he had no involvement in Kayla's murder as he did not know about her; but as far as he was concerned he was glad that there was one less assassin after the Prince.
Willem was found to be innocent after the team incarcerated Kwanele Mthembu for Kayla's murder. He was then interrogated again to try to get information this time about SOMBRA and the Prince. Unfortunately, he repeated what he said before that he was on a need-to-know basis so he had no idea about SOMBRA, or why diamonds were being stolen from Lavinia De Brills. He did say that if they wanted to find anything useful, they had to look at the yacht club since he and the Prince hid there. Jack thanked Willem for his help and went to the yacht club with the player to find any useful information.
Case appearances
Gallery