William Lewis (appearing as Zeus) was one of the suspects during the murder investigation of Grimsborough cop Ed Dunkin in Good Cop Dead Cop (Case #6 of Grimsborough).
Profile
Zeus is a 28-year-old African-American pimp of slender build with a bright purple hat covering his black dreadlock hair. He has a mustache connecting a beard. He is commonly seen wearing a black pimp coat covering a suit with a blue tie.
| | |
| --- | --- |
| Height | 6'3" |
| Age | 28 |
| Weight | 180 lbs |
| Eyes | brown |
| Blood | A+ |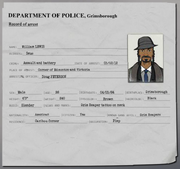 Zeus was called in when the police discovered that Ed frequently used to call him about prostitutes. The police did thorough investigation, but found nothing to incriminate Zeus. He also told Jones and the player he had an agreement with Ed. Zeus would let him use his prostitutes' services free of charge, and Zeus's escorts would not be arrested by the police. They spoke to him if Ed had any reason to be murdered by someone else. He was eventually let go when Harry Landry was convicted.
Trivia
Zeus bears a striking resemblance to Snoop Dogg, a famous American rapper, singer-songwriter and actor.
Some info can be discovered on Zeus' arrest form:

He was arrested by an officer named Doug Peterson for assault and battery at a location named "Corner of Edmonton and Victoria" on March 3, 2012.
He lives in Caribou Corner, the same neighborhood where Sally Stone and Gloria Roach live.
His weight was 240 lbs at the time of his arrest, even though his weight was 180 lbs during the events of Good Cop Dead Cop.
He was born in Grimsborough on April 3, 1984.
He is a member of a gang named Grim Reapers and has a Grim Reaper tattoo on his neck.
Case appearances
Gallery
Ad blocker interference detected!
Wikia is a free-to-use site that makes money from advertising. We have a modified experience for viewers using ad blockers

Wikia is not accessible if you've made further modifications. Remove the custom ad blocker rule(s) and the page will load as expected.